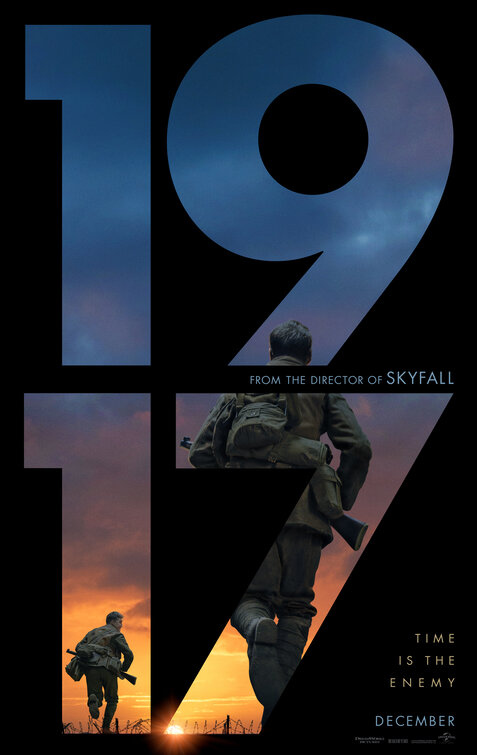 Time Is The Enemy
Director
Sam Mendes
Starring
George MacKay
Dean-Charles Chapman
Set in the titular year on the western front of the first world war, an isolated group of nearly two thousand men are walking into a trap, as highlighted by new aerial photos, and two English lance corporals, Blake [Chapman] and Schofield [MacKay] are given priority orders to call off the attack. With less than a day to cross over into no man's land and span ground that the Germans have supposedly retreated from, the two young men cautiously proceed with the added pressure that one of the men they're trying to reach is Blake's older brother.
It is impossible to talk about this movie without first addressing the method in which it was executed. To boil the sprawling madness of WWI to a simple personal story isn't necessarily a difficult task but through a series of vignettes intercutting a straightforward objective, it does make for a unique guided tour of the conflict. Creating such a spectacularly devised microcosm must have required so much forethought and deliberation; more than that, I would wager that more planning and consideration went into this film than the entirety of WWI. But to reduce the achievement for a moment, it is ultimately a gimmick and one that can initially be quite distracting as audiences start to look for the potential cutting points and camera hand-offs. Yet as the story unfolds, the technical wonder is superseded by the emotional tale of survival.
Furthermore as much as the camera work is a marvel, there are so many technical aspects performing truly above and beyond, cementing this release as one that ideally needs to be seen in a cinema. The sound is delightfully immersive and the accompanying tense, building score by long time Mendes collaborator Thomas Newman, while devoid of a lot of his signature sounds, is magnificent. Case in point, the rat tripwire scene is easily more engrossing and tense than most recent horror films that are overly reliant on jump-scares and aggressively staccato sound work. And the final icing on the cake is the lavish production design which, while jaw-droppingly bleak, evokes such a morbid beauty owing to the recreation of the twisted, buckled landscape, period accurate costumes and props and the maddeningly precise set arrangement necessary to achieve the ambitious shots.
No amount of technical aptitude can entirely carry a movie and if this film had subpar performances, it would die on its feet. As such, so much is put upon the two relatively unknown leads but I believe they succeed marvellously. One could argue that some of the more nuanced camaraderie and interminable waiting of trench warfare is lost, so in essence portrays a fairly unique view of the great war but the general back-and-forth between Blake and Schofield, flitting between abject dumbstruck terror and light-hearted anecdotal joking to cope with the reality of the situation, is a solid compromise. I also genuinely appreciated the acknowledgement of diversity within the various passing regiments, too often global conflicts of the twentieth century were branded as a white man's war but the whole essence of a world war is that every nation is involved. And while it is an entirely different animal from an entirely different war, it's worth brining up something like Dunkirk which could also be considered a high budget claustrophobic drama with a novel central contrivance. As stated, these are two different projects with two different agendas but I found 1917 significantly more humanising and impactful in its delivery; if only for the narrow and intimate focus.
**spoilers**
If I was forced to identify a fault or frustration, it would be something said by Mark Strong's character Captain Smith. Entering the narrative at a particularly sensitive time (for both the lead and the audience), Smith is a figure of kindness and convenience and as such whatever he says is somewhat elevated in importance. Most notably, he warns Schofield that when he delivers his orders to Colonel Mackenzie [Benedict Cumberbatch], ensure there are witnesses. Regardless of the orders' origins, Smith subtly explains that "Some men just want the fight." This sets up such an interesting additional level of fear and concern because we had simply assumed the story would end if and when the orders were delivered but then we learn there may be an additional fight for the instruction to be read and followed. Regrettably this transpires to be foreshadowing that never delivers and is the only real anti-climax or flaw of the movie. It turns out Mackenzie is just a commander who is fed up of the war and thinks he is seizing the opportunity to end it.
As an example of continuous creeping paranoia and fear, the pacing is such that you don't realise how much time has passed and once the film reaches its conclusion, you are left a little depleted in the wake of the experience. Subsequently, 1917 joins All Quiet On The Western Front, Gallipoli, A Very Long Engagement and Paths Of Glory as one of the best films set during the first world war and will likely be remembered in deservedly high regard.

Release Date:
10 January 2020

The Scene To Look Out For:
After the only clear and intentional cut of the movie, the narrative shifts from day to night and the reveal is absolutely fantastic cinema. With the general low light, fires burning in the distance, passing flares and so many moving elements, it is an absolute testament to the mastery of Roger Deakins. Paired with this to enhance the whole experience is the phenomenal sound design and Newman's soaring score. It's just a surreally beautiful heart-pounding moment.

Notable Characters:
The officer cameos punctuate the various vignettes and serve to highlight the different attitudes found in the army, from Andrew Scott's jaded ambivalence to Mark Strong's stoicism and Benedict Cumberbatch's frustration. It's a marvellous tapestry that helps reinforce the idea that despite the urgency of their mission, the two leads are treated with a general insignificance because life is being squandered on such a scale that the individual is irrelevant.

Highlighted Quote:
"It's just a bit of tin, it doesn't make you special"

In A Few Words:
"A genuine triumph of plain emotional storytelling and filmmaking technique"

Total Score: 5/5