IF BEALE STREET COULD TALK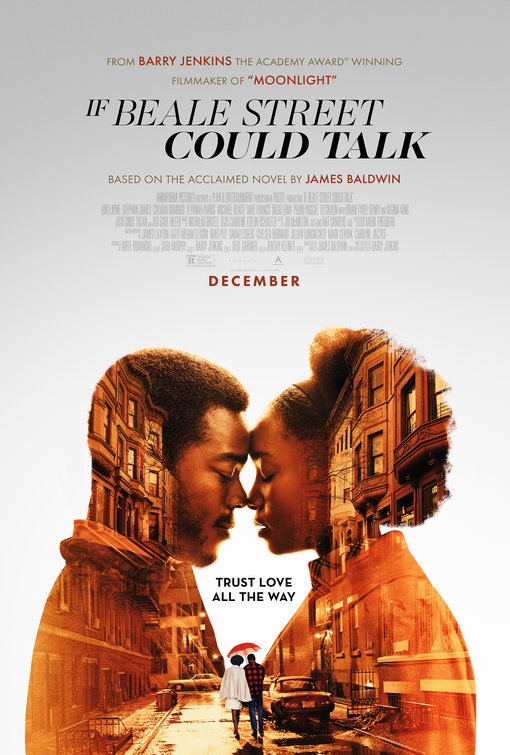 Trust Love All The Way
Director
Barry Jenkins
Starring
Kiki Layne
Stephan James
While not told in linear fashion, If Beale Street Could Talk cuts back and forth between two timelines. Throughout one we see the budding relationship between a young black woman, Tish Rivers [Layne] and her boyfriend Fonny Hunt [James] in the 1970s. The other predominantly deals with Fonny's arrest and incarceration on a falsely accused rape charge with the added complication of Tish's recent pregnancy.
Some of the greatest romances have been stories of obstructions getting in the way of love, whether war, family feuds, or in this case, systemic racism. Case in point, I've seen so many World War II related features that achingly highlight the futility of war by using the backdrop of a young relationship that is marred or nullified by this inescapable but wholly pointless goliath. And for those who have experienced the trials and tribulations of love, this concept of injustice is so painfully relatable – which is why this type of romantic tale has prevailed and proved popular over the centuries. In truth, there have been many versions of this kind of story but not so many that have been filmed and shot so exquisitely.
As an adaptation of a novel, the bulk of the writing praise should go to the source material but without a doubt, there is a level of visual craft that Jenkins and his team bring that really elevate the whole narrative. From James Laxton's intimate close-up shots, straight down the barrel and unwavering to the audience to the vibrant colour palates of the clothing, which fades as the hardships of realities of adult life take over. To top all that, we are treated to another fine Nicholas Britell score which shifts from period-setting jazz to uneasy tension and intoxicating romantic strings. The whole amalgam highlights how all involved are operating at the top of their game, underpinning the tension and despair with a rising feeling of prevailing hope.
In addition to this emotional spectrum, there is also a purity to what we are shown. Patient and perfectly paced, the leads age throughout so painfully but in a very real and identifiable way. A large part of this is down to the fact that most of the central actors are largely unknown to mainstream cinema and therefore few preconceptions are brought into the film. Both Layne and James carry this film magnificently and the chemistry between them is wonderful and not simply because they are a couple in love but because their various interactions hint at something more; momentary hesitation, insecurity, frustration, coyness – so many factors that make it feel whole and fleshed-out.
These tender performances help emphasise the tragically grounded finale but that grounding is also at the expense of elements from the novel, which has a few darker sections which are set aside to create something beautiful. There will also be audience members who don't care for the conclusion. Over the years, film has raised us to believe that by the time the story ends, everything will probably be alright or at least have enough of a denouement to guarantee closure. Instead, If Beale Street Could Talk, infuriatingly swerves at the last minute and denies you the fairy tale ending because that isn't how life works. Usually, I genuinely enjoy those kinds of endings but I know a lot of people watch something like No Country For Old Men or Three Billboards Outside Ebbing, Missouri and feel frustrated by the abrupt finale.

Release Date:
15th February 2019

The Scene To Look Out For:
Throughout the story we are treated to a few contained vignettes that feel theatrical in structure, with character entrances and exits while the majority of the scene retains its position in one location. One of the best examples of this is the shifting performances and razor-sharp dialogue in the Rivers' living room when Tish tells Fonny's family the news about the pregnancy. The mood fluctuates depending on who has entered or left the scene and the brazen discourse is simultaneously shocking and entrancing.

Notable Characters:
**spoilers**
With such a strong and solid cast, it would be quite easy to highlight most of the actors involved but owing to one specific scene wherein Tish's mother, Sharon (played by Regina King) travels to Puerto Rico and tracks down the woman who has accused Fonny of rape. The scene itself is desperate and disheartening and audiences may expect the scene (and indeed the remainder of the film) to take a certain course but seeing Sharon come so close and fail is frankly crushing.

Highlighted Quote:
"I need to figure out a way to get some bread together and the get the fuck out of this country"

In A Few Words:
"A tragically beautiful love story, singularly told"

Total Score: 5/5