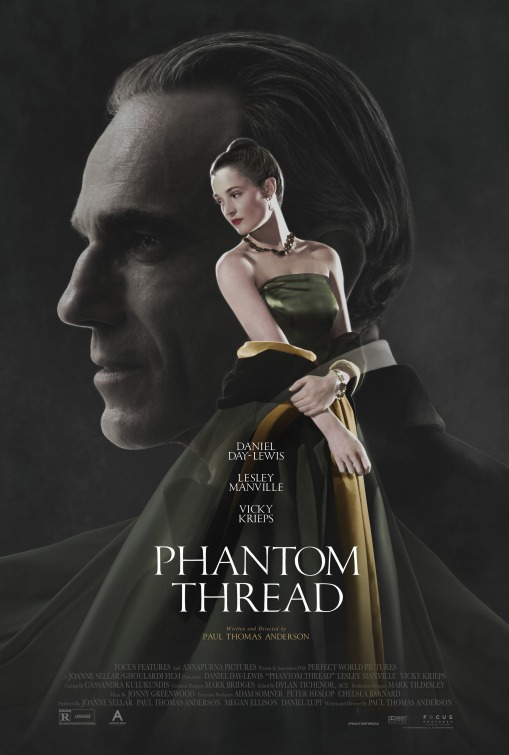 Beneath The Surface
Director
Paul Thomas Anderson
Starring
Daniel Day Lewis
Vicky Krieps
Lesley Manville
Reynolds Woodcock [Day Lewis] is a renowned fashion designer, tailoring dresses for the upper echelons of 1950's London with the help of his sister, Cyril [Manville]. Following the debut of a dress commissioned for a countess, Woodcock heads to his country home. While there he meets a young quizzical waitress, Alma Elson [Krieps] and pursues her. Soon, Alma is plunged into Woodcock's world and quickly learns of his more unpleasant side as the veneer of his charm thins.
When entering a Paul Thomas Anderson feature, I think it's fair to say one should know what to expect – perhaps not in terms of story but of the tone, a potentially meandering flow and intensity of character. More often than not, I seek out Anderson's films specifically for these things and relish in the curiosities on display. Subsequently, Phantom Thread was a very difficult film for me to process, largely because I can appreciate why it could be considered good but I feel it faltered in various places.
Addressing where the film succeeds, it's evident that the characterisation is spectacular and fascinating. The central trinity of performances (Reynolds, Alma and Cyril) are powerfully intriguing and difficult to look away from. They are seemingly heightened yet grounded in reality and the tension between them is unbearable at times, despite the fact that very little danger ever feels present. With Reynolds we have a clearly talented but horrendously arrogant and insecure man. The difference between him and other iconic roles by Daniel Day Lewis is that I never felt the need to probe deeper into the psyche of this individual. He was merely an oddity and I didn't overly care what happened to him. Neither wishing malice toward him nor wanting him to succeed I was left apathetic to his tale; which, for someone of such extreme personality, certainly shouldn't be the case. Then we have Alma, our audience surrogate, who is whisked into this world of high-fashion and extreme devotion to an idea. Krieps performs wonderfully and holds her own with her co-stars masterfully but the deeper Alma settles into Reynolds' life the less she functions as a surrogate and reveals herself equally as bizarre as her fellow characters. Finally, we have the curt and prim Cyril, who initially feels like a walked-over sibling but through a few subtle and simple gestures and lines, we learn that she has survived alongside her brother as both a master interpreter (for lack of a better word) and keenly intelligent superintendent.
Phantom Thread also functions as an exquisite example of technical function, combining absolutely stunning costume design with smoky, muted cinematography. Initially I wasn't a fan of the score at all; it starts off somewhat out of place, like a late musical replacement forced onto an edit that doesn't suit it. It's only later that it seems to sit neater as we are exposed to Reynolds' true manner. Which could be argued is a nice parallel of the film itself, showing us a picturesque 50s Britain that simply doesn't exist anymore but is fondly remembered and this older romantic, enigmatic figure only for the film to unfurl and reveal this vicious environment centred by a disturbing individual, escalating something frankly slow and dull into something deeply difficult and painful to watch.
Unfortunately, for me at least, the film simply didn't work. The first third is relatively tedious and only hints at something of greater interest through the mystery of the reflective book-end narrative – which has Alma describing Reynolds with an honest affection. The central section is uncomfortable and where the film arguably works best, showing Alma surrounded by cold, robotic individuals, void of expression in a manner we can relate to or interpret. Presenting Alma as a naïve, impressionable young woman we want her to escape the rude, abrasive, controlling nature of the House of Woodcock. And then there's the third act which feels like it will illustrate the consequences of a woman scorned but twists to become a very unorthodox love story; which I both loved and hated.
Ultimately, cinema is about experiences, be they positive or otherwise and while I walked away from this film imbued with thoughts and emotions I wouldn't say they were predominantly complimentary. Phantom Thread is undeniably a well-crafted feature but odd in its flow and not all together entertaining outside of the unusual fetishistic waltz between the central characters; leaving it one of Anderson's weakest.

Release Date:
2nd February 2018

The Scene To Look Out For:
Shortly after Alma and Reynolds first meet, he invites her back to his country house and asks if he can make a dress for her. For Alma it is an extremely romantic encounter, this new liaison in extreme close proximity, exploring every detail of her body while partially clothed; the whole thing is played very sensual and flirtatious. Yet all of that changes so quickly with the addition of Cyril, whom Alma has not met. Suddenly this intimate moment is exposed as a very clinical examination with all of Alma's intricacies laid bare and her left feeling rather foolish. It's a wonderful little vignette and tells us so much about the manner in which these characters see the world, themselves and each other.

Notable Characters:
This is unquestionably Day Lewis' film. The part is grandiose but only really because of the actor – on paper there isn't a great deal to work with but the backstory, the unspoken quirks and elements of his personality are what make him towering. Reynolds is both overpowering yet frail, childish yet composed and talented yet unable to grow. Day Lewis' concentration, devotion and obsession for the craft feel completely real and when Reynolds sets out to find Alma at the New Year's party, it is evident his fixated obsession has shifted somewhat from clothes to her, through manipulation and design.

Highlighted Quote:
"That's such a sweet sentiment.. at such a bad timeI think it's the expectations and assumptions of others that cause heartache"

In A Few Words:
"Both provocative and hollow, Phantom Thread suffers from being a film at odds with itself, neither moving and memorable nor utterly lifeless"

Total Score: 3/5