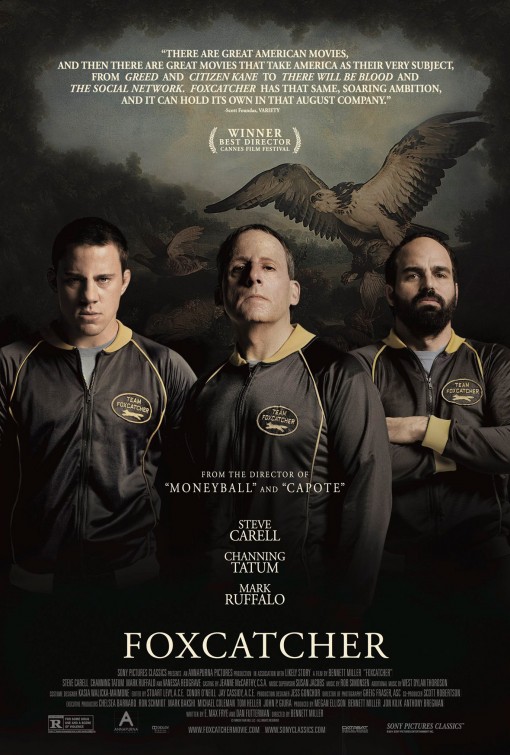 Based On The Shocking True Story
Director
Bennett Miller
Starring
Channing Tatum
Steve Carell
Mark Ruffalo
Foxcatcher tells the real-life story of 1984 Olympic wrestling gold medallist, Mark Schultz [Tatum] and his modest lifestyle in between professional bouts. He lives a solitary life constantly in the shadow of his more affable older brother Dave Schultz [Ruffalo], who is also an Olympic gold medallist. Out of the blue, Mark is contacted by representatives of the obscure and eccentric John DuPont, heir to the DuPont fortune and a wrestling enthusiast. DuPont explains to Schultz that athletes have been let down and forgotten by their own country and he feels it's his civic duty to provide the means necessary for them to be great. Flattered, Mark agrees to head up the Foxcatcher wrestling team. The only other stipulation that DuPont requests is that Mark's brother Dave join the facility too. Not wanting to uproot his family, Dave turns the offer down but wishes his brother all the best. As various competitions approach, Mark moves onto Foxcatcher Farms and is slowly exposed to his benefactor's absurdity and unpredictable nature.
First and foremost, this is a character study and any success this film has is owed to the central performances. To my mind, Ruffalo has always been an acting powerhouse who has too often been relegated to background supporting roles – it's only in recent years that his talents are beginning to be appreciated. Tatum and Carell, on the other hand, as talented and popular as they are, had yet to undertake a drama of this demand but both excel superbly. Unfortunately, like all biopic features, the supporting cast are wholly neglected and potentially interesting figures such as Dave's wife, played by the unrecognisable Sienna Miller and DuPont's mildly eccentric and equine obsessed mother [Vanessa Redgrave] are regrettably overlooked. Yet despite their diminished screen-time, both actresses ensure that their roles are memorably presented to the audience. Additionally, the way in which the film is made relatable is quite impressive. Contemporarily speaking, all one need do to make an audience identify with a character is to show they've been let down by society. With economic crashes and slow recoveries, the public really root for the downtrodden and neglected (no matter how successful they outwardly appear). In this case, we have an Olympic gold winning athlete – not exactly the most identifiable of individuals – but he still lives in moderate conditions and doesn't exude the lavishness one assumes success automatically provides. On top of that, his older brother is in the exact same position but has made a more prominent name for himself and lives a happy life with his wife and two children. It's this curious everyman, Faustian, cautionary tale element that makes the story painfully intriguing and sets an air of unease from start to finish.
If I had to summarise the entire film with one word, I would opt for 'quiet'. From the direction, to the editing, the sound design, the music, the performances, everything is quietly and neatly contained beneath the surface. The tension is so slow burning that you would be forgiven for wondering if it was ever going to peak. But this all seems to service Foxcatcher rather well, as if to imply that you know some terrible event is coming but you arguably don't want to experience its inevitable denouement. However, one thing the film lacks is a real exploration of the situation. There's plenty of implication and insinuated instability but no outright definition to clarify for the audience. However, this can be argued two ways: either it's an explicit decision by the writer and the director to portray the facts as known and as perceived at the time by those involved or alternatively it's an unfortunate case of performance and bold direction overtaking closure and narrative clarity. Personally, I believe this was wholly intentional. From the title of the release, to the content, to the manner in which it is depicted, the whole Foxcatcher farm tale feels like a tragic death at the hands of a cult leader. At the centre, you have this mysterious, powerful and oddly charismatic figure who lures in a susceptible, naïve individual and uses that position of power and authority to shape how this person effectively lives their life, whilst displaying wildly mercurial mood swings. Even the production design supports the notion of cult and in a way, one could draw more parallels between Foxcatcher and something like The Master than any sporting-related feature.
Is Foxcatcher a good movie? Without a doubt. Is it an entertaining movie? Admittedly, that depends heavily on your personal taste in narrative. But one thing the film is, is mature. So many key components are handled with a subtle complexity; the acting is frankly career highs for the principal cast, Miller's direction is executed with the utmost confidence, Grieg Fraser's cinematography simultaneously compliments and overtakes his previous work and the partnership of Frye and Futterman's scripting is bold, compelling and darkly intriguing. Granted, we could have explored the peripheral characters more, or analysed the levels of DuPont's insanity but I think the final presented content more than does justice to the story being told.

Release Date:
9th January 2015

The Scene To Look Out For:
Each character has more than a few standout scenes but one that I found particularly interesting takes place in the third act. DuPont has arranged for a camera crew to follow his work at Foxcatcher and interview those involved in the training. David is asked to take part in a single talking-head interview and fed several loaded questions. Despite trying to answer as honestly as possible, the director highlights David's deflection and regrettably explains that David is expected to use the exact words, "John has been like a mentor to me." David's final begrudged delivery of this line is subtly crushing and Ruffalo conveys so well how much self-loathing is at play here.

Notable Characters:
To reiterate what I've said above, this movie is a standout accomplishment for Carell and Tatum. Both actors have more than proved their worth in overt comedic performances but I have stated on many occasions that comedy comes from a place of pain. No right minded human being sets out to make people laugh, it's usually a defence mechanism that comes from somewhere very dark. That darkness ensures that comedians will always give you surprisingly cutting dramatic performances, given half the chance. Carell and Tatum are no exception.

Highlighted Quote:
"Ornithologist, philatelist, philanthropist"

In A Few Words:
"A dark and chilling film stapled with fine performances, marred only by the highly independent pacing and editorial choices"

Total Score: 4/5