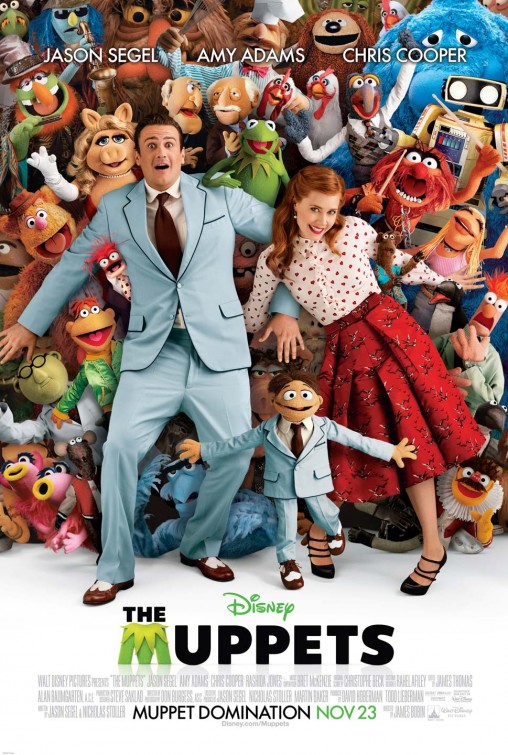 Muppet Domination
Director
James Bobin
Starring
Jason Segel
Amy Adams
Steve Whitmire
Eric Jacobson
Peter Linz
Chris Cooper
Following the relatively disastrous Muppets From Space, Jim Henson's creations fell somewhat out of favour with the general public and remained absent from cinema for twelve years. As such, the entire film is less about The Muppets on some whacky adventure and more a life-affirming tale of acceptance, whilst still remaining loyal to the themes we've come to expect: simple yet touching humour, various musical numbers and pitch perfect celebrity cameos.
The film opens in Smalltown, detailing the childhood of Gary [Segel] and his Muppet brother, Walter [Linz] – don't ask why a human would have a Muppet for a sibling, I'll get to that later. Walter struggles to find his place in this crazy world but discovers a ray of hope watching the Muppets perform on TV. As he grows older, the world moves on and seemingly forgets about Walter's heroes, even his brother, who has been in a relationship with elementary school teacher, Mary [Adams] for nearly ten years. To celebrate their anniversary, Gary is taking Mary to Los Angeles and they plan on taking Walter with them, to see The Muppet Studio. Upon arrival, the group find the studio abandoned and run-down. Sneaking away from the tour group, Walter investigates Kermit's office, only to overhear a plan to tear down the studio and drill for oil by heartless millionaire, Tex Richman [Cooper]. Panicking, he does the only thing he can and locates Kermit. From there, it's a race against time to get the old gang back together and raise ten million dollars to save the studio. Cue montages, cameos, familiar puppeted faces and a variety of well known and new songs in a way only a Muppet movie could pull off.
The Muppets feels like a genuine family film without resorting to the contemporary acceptance of overtly crass developments and double entendre heavy dialogue. Furthermore, the plot doesn't try to rehash or replace the classic Muppet stories but explores the formula that made them so popular. Ultimately, Nicholas Stoller and Jason Segel have penned a sincere love letter to the Muppets franchise, interspersed with fitting songs by Bret McKenzie and subtle scoring by Christophe Beck. Having said that, there are quite a few gaping holes that need to be addressed. The first is the incredibly slow start and shocking pace. From the film's opening, it takes quite some time to get the story rolling and even then, the Muppets played more of a supporting role to the Gary and Walter characters. I appreciate the script needed a certain amount of time to rebuild the Muppet group but as they only feature in half of the film, you walk away feeling like you've missed out – kinda like Jurassic Park, great film but needed more dinosaurs. Then after the slow build everything panned out brilliantly, the tension rose, the setups paid off and in the final moments we're cheated with a hideously quick and neat resolve; despite the opportunity for a very clever and insightful finale, we're treated with a simple throw away ending. But the biggest frustration was the unanswered question, why is Walter a Muppet? I was waiting for this big storyline to develop, explaining how/why Gary's brother was the only Muppet in the world who wasn't one of the actual Muppet troupe but no, he's a Muppet, there's nothing else to say, his mother didn't mess around or anything, he's just a Muppet.
Overall it's a very entertaining, surprisingly heartfelt and sincere film, despite the often ridiculous premises. Will this release reignite a passion for the Muppets? Will another film or possible TV series follow? I honestly couldn't tell you. The film seems to have done well with audiences and critics in the States but the general reaction over here seems to be, "Really? The Muppets?" No doubt, people's opinions will change if they watch the film but that's only if people actually go to see it. All I can say is that if fanboys Stoller and Segel remain at the helm, we can probably expect great things.

Release Date:
10th February 2012

The Scene To Look Out For:
Despite the many hilarious scenarios, I think the 'Man Or Muppet' song is one of the film's key highlights. The song itself is an atypical McKenzie tune, combining an earnest ballad with an absurd twist and the accompanying cameo made by Jim Parsons cements its brilliance. Outside of that, it's just little things that seem to tickle you the most, the Smells Like Teen Spirit barbershop quartet, Chris Cooper saying 'maniacal laugh', Walter running out of Kermit's office screaming, kidnapping Jack Black, the Swedish chef blowtorching the fridge.. ah, good stuff.

Notable Characters:
Favourite character is actually quite difficult. As far as the actual Muppets are concerned, I only really like Gonzo and Sam Eagle.. and their presence was largely understated here. Equally, I think a great deal of praise and credit need to be lauded on Jason Segel but his character was actually a little trite and the relationship between Gary and Mary was far too… 1950's. I actually don't know if I had a favourite character or someone whose performance really stood out here. It was very much an ensemble effort and subsequently, this may be my first review in which I don't award a highlighted character. Sorry.

Highlighted Quote:
"I make the baker make my bread out of dough. Oh no, don't eat it though, it'll make you ill; there ain't no flour in a hundred dollar bill"

In A Few Words:
"A very welcome return to form and a surprisingly feel good sensation.. but something felt incredibly off about the finale"

Total Score: 4/5